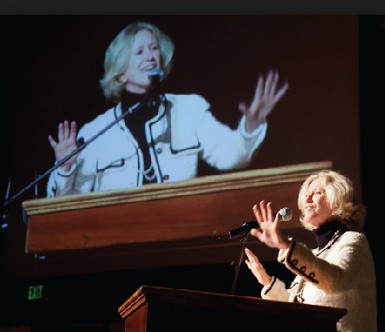 DR. GUNN SPEAKS ...
Dr. Gunn is frequently engaged to ...
* speak to groups- from 20 to 2,000
* have fireside chats with guests on-stage
* serve as a panelist
* moderate panels
* emcee short meetings to multi-day events
Popular Speech topics include:
BIOTECH'S RESPONSE TO
THE COVID-19 PANDEMIC
Customized for audience expertise and interest, the response to the COVID-19 pandemic by the US and global biotech community. Includes potential diagnostics, treatments, vaccine development, biomedical devices, etc., all reflecting the convergence of biobusiness, accelerated scientific research, accelerated FDA changes, media coverage, challenges for CDC and government response. Dr. Gunn, the Director of Bioentrepreneurship at the University of San Francisco and host of BioTech Nation on the NPR Channel on SiriusXM, also discusses what we can and cannot control - individually and collectively.
TECH NATION --
THE FUTURE OF NORMAL
Customized for audience expertise and interest, how do we view where we are today and in the future, given the increase in technology, science, and information, especially given the societal implications of the coronavirus pandemic. Rather than searching for a single "new normal", how can we navigate confidently over a number of waves of successive societal change. Dr. Gunn, host of Tech Nation, shares relevant insights from her many guests.
Representative recent engagements include:
- "The Arc of Media, The Future of Truth", Inaugural Lecture, Purdue University Honors College, Aronson Family Science and Society Lecture Series
- Moderator, Nobel Laureate Panel, The Exploratorium, San Francisco, Elizabeth Blackburn, Brian Kolbilka, Saul Perlmutter & Alvin Roth
- On-stage interview with the 2017 World Design Medal Winner, Hartmut Esslinger, at the Mercedes Benz "me Convention" in Frankfurt, Germany
- Fireside chat with Sal Khan, founder of Khan Academy, and Dr. Ray Deschais, Senior Vice President for Discovery Research at Amgen, on the occasion of Amgen's significant investment in biology education on the Khan Academy website
- Inaugural Keynote Speech - the Science and Society Honors Lecture Series, Purdue University
- Nobel Laureate Panel, The Exploratorium - Moderator with Panelists: Elizabeth Blackburn, President, The Salk Institute, Steven Chu, Physicist & Former Secretary of Energy, Saul Perlmutter, Astrophysicist, and George Akerlof, Economist
- Spartan Leadership Talk on Challenging Yourself to Dare
- Faculty, Annual Exponential Medicine Conference, 2015-to-present, "From 'Omics to Action"
- Faculty, Annual BIO Bioentrepreneurship Boot Camp, 2012-to-present, "Working with the Media: Thoughts for Bioentrepreneurs"
Email Contact: DrGunnSpeaks@gmail.com