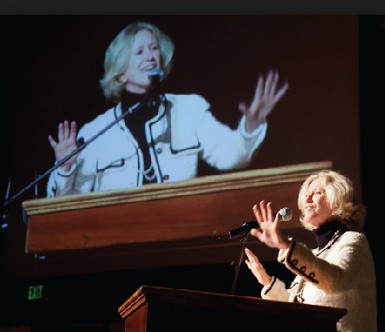 DR. GUNN SPEAKS ...
Dr. Gunn is frequently engaged to ...
* speak to groups- from 20 to 2,000
* have fireside chats with guests on-stage
* serve as a panelist
* moderate panels
* emcee short meetings to multi-day events
Popular recent speaking topics include:
BIOTECHSPEAK FOR "PROFESSIONALS" HOW TO MAKE YOUR WORK MEANINGFUL TO EVERYONE
Dr. Gunn uses her nearly two decades of experience getting scientists and biotech CEOs to talk about how their cutting edge science and the products they are developing actually work, where they are in the development process, and the myriad of challenges they face. All this can be translated into a human story and one which can be described in everyday language. ("I'm sorry. Our listeners don't typically use the word 'pathologies'.") With a growing list of alternatives, such as "how it works is" for "the mechanism of action is", this effort can be customized to a large audience, or for small audiences, can be transformed into a workshop.
BIOTECHSPEAK FOR "EVERYDAY PEOPLE" WHAT THEY ARE TALKING ABOUT AND WHAT IT MEANS FOR YOU
Every audience is different. For some, this means an introductory approach such as "Who Doesn't Have DNA? Five Things that Everyday People Need to Know About Biotech", followed by an extensive question and answer period. For those with biotech investment interests, "The DNA of the Global Biotech Industry" might be more suitable. Here, Dr. Gunn breaks down the five basic tools of biotech, which frames the work of every biotech effort. Some audiences wish to see how biopharmaceuticals fit into the global pharmaceutical industry, seek focus on national and global bioclusters, and more. Other audiences may be interested in specific topics, such as various diseases, the uses of CRISPR, or a global perspective on the COVID pandemic, related government policies, vaccine distribution, etc. Understanding the audience profile and their specific interests is essential to an effective presentation.
WHAT EMPOWERMENT MEANS: FOR WOMEN IN SCIENCE, BUSINESS, OR TECH
Given her many decade career, which has spanned NASA, private industry and academia, Dr. Gunn is often asked to address audiences on women's issues. She brings her personal experience as well as those of recognized women, to give audience members of all ages insight in what it means for each of them. With her innate belief that each woman is different and each must find her own path - no matter what her age, she has developed a simple tool which requires only a piece of paper and a pen or pencil to enable audience members to clarify the points of resistance in their work lives, as well as where their expanded potentials naturally lie. This effort can be customized to a large audience with a diverse focus, or for small audiences, it can be transformed into a workshop.
RECENT EVENTS include:
- On-stage interview with World Design Medal Winner, Hartmut Esslinger, at the Mercedes Benz "me Convention" in Frankfurt, Germany
- Speaker, Inaugural Keynote Speech - the Science and Society Honors Lecture Series, Purdue University
- Moderator: Nobel Laureates @ The Exploratorium - Panelists: Elizabeth Blackburn, President, The Salk Institute, Steven Chu, Physicist & Former Secretary of Energy, Saul Perlmutter, Astrophysicist, and George Akerlof, Economist
- Moderator: "Demystifying Buzzwords – how big data and machine learning are being used NOW in the life sciences industry", Panelists: Representatives from Novartis, GSK, and Abbvie, BIO 2020 conference
- Speaker, "Who Doesn't Have DNA? Five Things that Everyday People Need to Know About Biotech", City Club of San Francisco
- BIO Bioentrepreneurship Boot Camp, 2019, "Working with the Media: Thoughts for Bioentrepreneurs"
- Fireside chat with Sal Khan, founder of Khan Academy, at Amgen, on the occasion of Amgen's significant investment in biology education on the Khan Academy website
- Speaker, "Creating Momentum: Women and Empowerment", Cytiva Life Sciences, formerly GE Healthcare Life Sciences