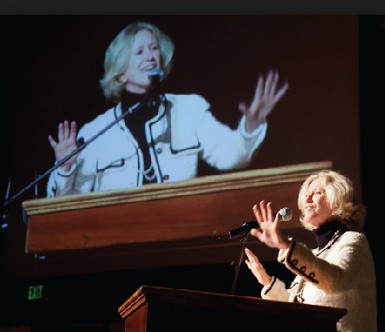 DR. GUNN SPEAKS ...
Dr. Gunn is frequently engaged to ...
* speak to groups- from 20 to 2,000
* have fireside chats with key people
* serve as a panelist
* moderate panels and lead round tables
* emcee short meetings to multi-day events
Recent keynotes include:
L7 Informatics Conference
"BIOTECH meand BIO + TECH"
For this tech/biotech-savvy audience, Dr. Gunn paints the big picture of IT as it matures alongside the cutting edge of science, unveiling a future where BIO and TECH are essential partners. This includes describing how Artificial Intelligence is used in Biotech today.
National State Courts Annual Technology Conference
"The Five Most Complicated Things . We are Talking about Today"
For this audience, the list included: Artificial Intelligence (AI & ChatGPT), Ethical Behavior - both Individually and Socially, Responsibility/Ownership, Trust and Truth. Dr. Gunn explained the problematic elements of AI - both personally and in business, and how we can take control today and in the future.
RALLY 360 in Indianapolis-
"Do I Care About Biotech? ... You Got Any DNA?"
For this general audience, the question to ask is "Who doesn't have DNA?" Dr. Gunn talks about the work being done today - from breakthrough science to unprecedented products, from the lucky breaks we had with the Covid vaccines to the use of AI in biotech, and the many, many efforts being undertaken today by biotech companies globally. She brings us to the frontiers of biotech and unveils the future we can expect
Other Speeches For General Audiences
"Five Things Everyday People . Need to Know About Biotech"
This popular general speech gives people a sense of the cutting edge of work across a number of disease areas and medical conditions. It usually includes an extensive question and answer period from the audience.
"Biotech for the Business Community"
For those interested in the Business of Biotechnology, Dr. Gunn breaks down "The DNA of the Global Biotech Industry". This includes the five basic tools of biotech, which frames the work of every bioenterprise. Focusing on a selection of work from US and global companies - both privately held and publicly traded - she explains in everyday language what they are trying to do, describes how biopharmaceuticals fits into the global pharmaceutical industry, gives definition to national and global bioclusters, explains the role of Artificial Intelligence in Drug Discovery, the emergence of CRISPR, and more.
"Explaining Your Science to Mainstream Media"
As a long time NPR journalist, within which nearly two decades were focused on Biotech alone, getting scientists and biotech CEOs to talk about how their science and products so that anyone can understand them has been an essential skill. With an ever-expanding list of alternative phrasing such as "how it works is" for "the mechanism of action", an equally important element is making the interview a human story, and connecting iit to those biotech and science stories the NPR audience already comprehends. Whether a disparate industry group or professionals within a single company, this topic can be explored with a speech, a hands-on workshop, or even amenable to individual coaching/consulting.
----------------------------------------------
In all cases, understanding the audience profile and its specific interest is essential to creating an effective event.
SAMPLE EVENTS include:
- Panel Moderator, SXSW 2022, Bristol Myers Squib Global Equity Panels
- Keynote speaker, Rally 2023, Indianapolis Indiana
- On-stage interview with World Design Medal Winner, Hartmut Esslinger, at the Mercedes Benz "me Convention" in Frankfurt, Germany
- Speaker, Inaugural Keynote Speech - the Science and Society Honors Lecture Series, Purdue University
- Moderator: Nobel Laureates @ The Exploratorium - Panelists: Elizabeth Blackburn, President, The Salk Institute, Steven Chu, Physicist & Former Secretary of Energy, Saul Perlmutter, Astrophysicist, and George Akerlof, Economist
- Moderator: "Demystifying Buzzwords – how big data and machine learning are being used NOW in the life sciences industry", Panelists: Representatives from Novartis, GSK, and Abbvie, BIO 2020 conference
- Speaker, "Who Doesn't Have DNA? Five Things that Everyday People Need to Know About Biotech", City Club of San Francisco
- BIO Bioentrepreneurship Boot Camp, 2022, "Working with the Media: Thoughts for Bioentrepreneurs"
- Fireside chat with Sal Khan, founder of Khan Academy, at Amgen, on the occasion of Amgen's significant investment in biology education on the Khan Academy website
- Speaker, "Creating Momentum: Women and Empowerment", Cytiva Life Sciences, formerly GE Healthcare Life Sciences